Article 15 – Trailer | Ayushmann Khurrana | Anubhav Sinha | Must Watch Reaction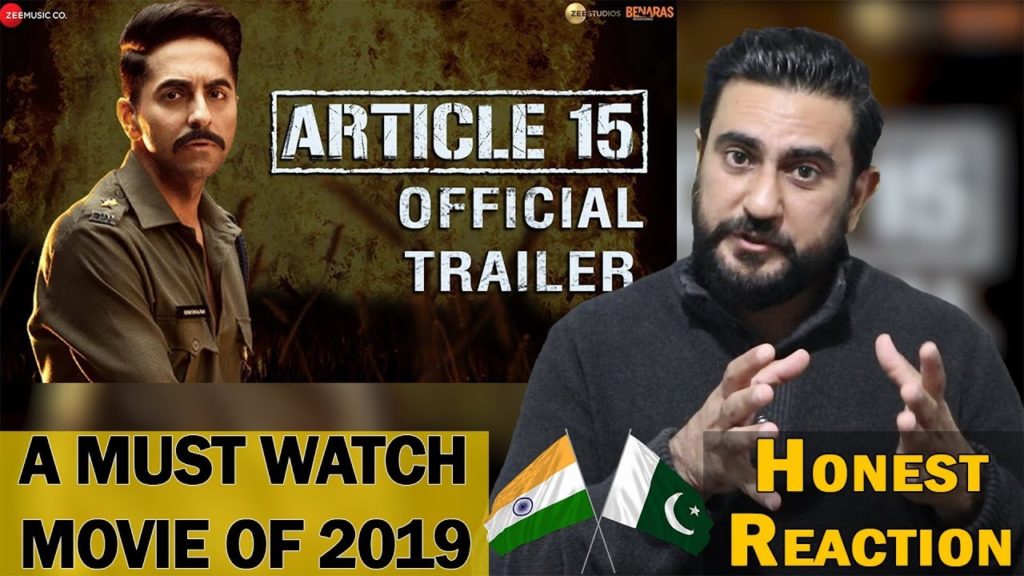 Hello friends, watch my latest reaction on Article 15 – Trailer starring Ayushmann Khurrana and directed by Anubhav Sinha. Releasing on 28th of June 2019.
Article 15 trailer: Ayushmann Khuranna takes on a corrupt system, caste divide. Watch my reaction video.
Article 15 trailer: Ayushmann Khuranna's hard-hitting trailer takes on India's inherent caste bias and how is used as a tool of oppression.
In perhaps what is the most hard-hitting film to be made this year, Ayushmann Khurrana and Anubhav Sinha go where few Hindi filmmakers dare to tread. With Article 15 — which prohibits discrimination on grounds of religion, race, caste, place of birth — the film takes on caste bias and how even is used as a tool of oppression.
Sharing the trailer, Ayushmann wrote, "Let's be Indians: Firstly and Lastly Presenting #Article15Trailer, in cinemas on June 28th ."
The film also features Isha Talwar, Manoj Pahwa, Sayani Gupta, Kumud Mishra, Nasser, Ashish Verma, Sushil Pandey, Subrajyoti Bharat and Mohammad Zeeshan Ayyub in important roles.
Be sure to stay tuned after the review/reaction to hear my thoughts. Please LIKE and SHARE this video also let me know your views.
✅ Keep up-to-date on the latest videos by SUBSCRIBING and also don't forget to press the NOTIFICATION BELL: https://goo.gl/pcVukw
✅ Please support the channel by becoming a Patreon: CLICK HERE https://www.patreon.com/IamFawad
✅ Let's connect:
☑ Website: http://www.fawadahmed.com
☑ YouTube: https://www.youtube.com/user/iamfawad
☑Twitter: https://twitter.com/iamfawad25
☑ Instagram: https://www.instagram.com/iamfawad25
☑ Facebook: https://www.facebook.com/IamFawad25
✅ Want to send me a reaction video or ask a question?
Post it in the comments section or you can click on the "About" tab on my main channel page and then click "Send Message" If that does not work, send a message on Instagram http://www.Instagram.com/IamFawad25
🔴 Note: Before requesting any video please be sure to check my playlist https://www.youtube.com/user/iamfawad/playlists in case if I have already done a reaction to the video.
🔴 Copyright Disclaimer Under Section 107 of the Copyright Act 1976, allowance is made for "fair use" for purposes such as criticism, comment, news reporting, teaching, scholarship, and research. Fair use is a use permitted by copyright statute that might otherwise be infringing. Non-profit, educational or personal use tips the balance in favour of fair use.*