Pakistani Reaction – Is Chandrayaan 2 Mission a Failure or a Victory?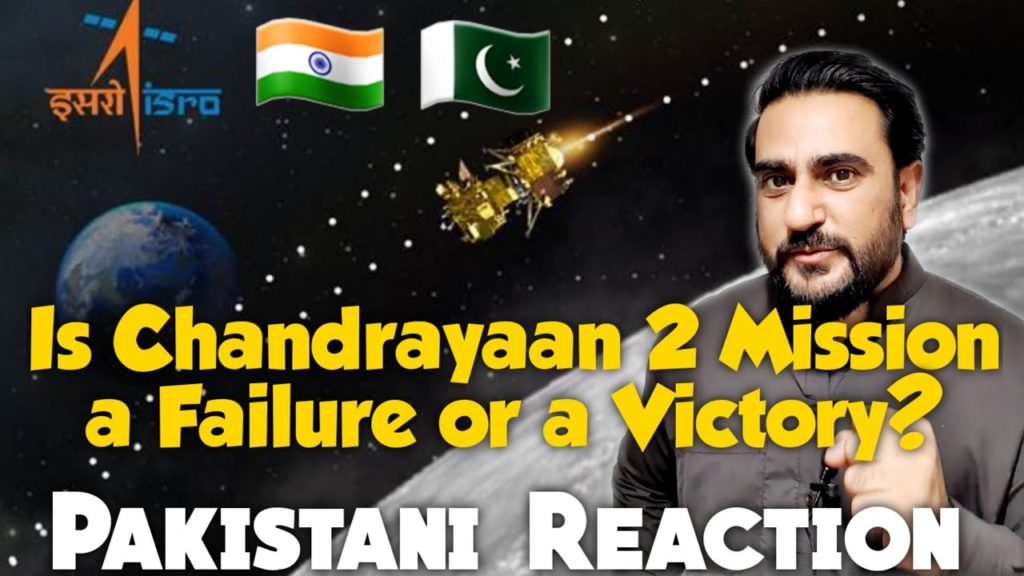 Pakistani Reaction on Chandrayaan 2 Mission is a Failure or Victory?
Doesn't matter whether if the mission is successful or a failure, it's still a great achievement. (Dr. Abdul Kalam)
Chandrayaan 2, which was launched on July 22, attempted a touchdown near the moon's south pole at 1:43 am in the wee hours of Saturday but lost communication in the final minutes. It is a three-module spacecraft comprising an orbiter, lander and rover.
Vikram lander was as planned and normal descent was observed till 2.1 km. "Subsequently, communication was lost. The data is being analysed," said #ISRO chairman K Sivan.
Asking scientists to not lose heart and thanking them for the milestones achieved during this historic attempt, PM Modi said, "It is not a small achievement and the country is proud of you. If the communication starts again, then the mission will be able to give us a lot of information. Let's hope for the best."
Vikram was attempting to land on the South Pole region of Moon where no other man-made mission has gone before.
Chandrayaan 1 and Mangalyaan were India's previously undertaken orbital missions around the Moon and Mars respectively.
The exact spot for landing would be determined minutes before the landing; which makes it one of the extremely complex missions for India.
Success is not final, failure is not fatal. It is the courage to continue that counts. We will get there next time, #isro !! More power to you!!
The orbiter is fully healthy & functional, Data collected will be used for better preparation next time. Landing at the Equator is easy but we dared to aim for the difficult South Pole.
Be sure to stay tuned after the review/reaction to hear my thoughts. Please LIKE and SHARE this video also let me know your views.
✅ Keep up-to-date on the latest videos by SUBSCRIBING and also don't forget to press the NOTIFICATION BELL: https://goo.gl/pcVukw
✅ Please support the channel by becoming a Patreon: CLICK HERE https://www.patreon.com/IamFawad
✅ Let's connect:
☑ Website: http://www.fawadahmed.com
☑ YouTube: https://www.youtube.com/user/iamfawad
☑Twitter: https://twitter.com/iamfawad25
☑ Instagram: https://www.instagram.com/iamfawad25
☑ Facebook: https://www.facebook.com/IamFawad25
✅ Want to send me a reaction video or ask a question?
Post it in the comments section or you can click on the "About" tab on my main channel page and then click "Send Message" If that does not work, send a message on Instagram http://www.Instagram.com/IamFawad25
🔴 Note: Before requesting any video please be sure to check my playlist https://www.youtube.com/user/iamfawad/playlists in case if I have already done a reaction to the video.
🔴 Copyright Disclaimer Under Section 107 of the Copyright Act 1976, allowance is made for "fair use" for purposes such as criticism, comment, news reporting, teaching, scholarship, and research. Fair use is a use permitted by copyright statute that might otherwise be infringing. Non-profit, educational or personal use tips the balance in favour of fair use.*