Pardadari – Abida Parveen – Atif Aslam | Official Video | Reaction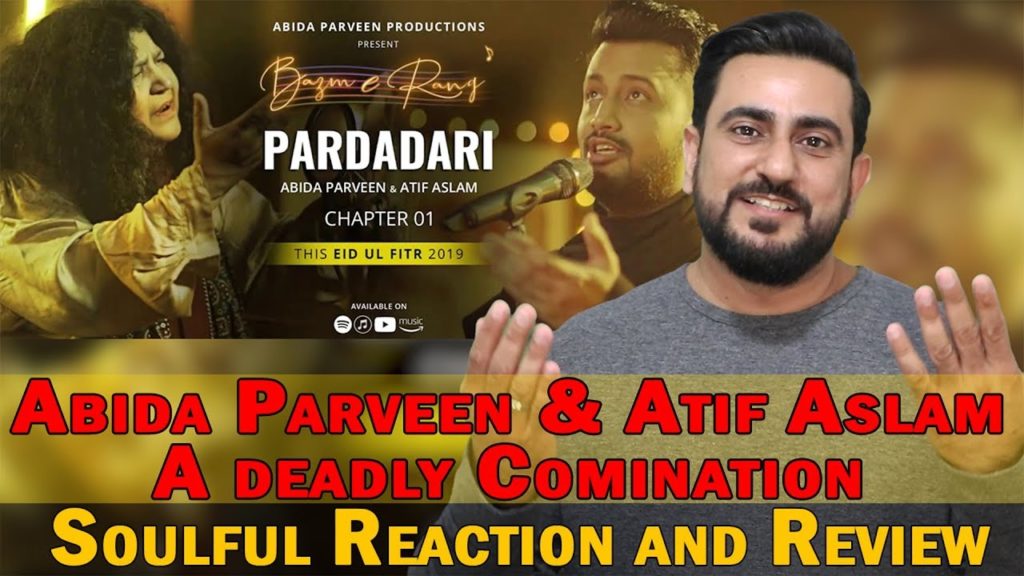 Hello friends, watch my latest reaction on the Pardadari – Abida Parveen – Atif Aslam | Official Video | BazmeRang Chapter 1
✅ Watch next – Reaction on Bol Hu – Soch the Band ft. Hadiya Hashmi | NESCAFÉ Basement Season 5 https://www.youtube.com/watch?v=WBbmouePinQ
✅ Recommended Playlist – Pakistani Songs Reactions http://bit.ly/PakistaniSongsReactions
Pardadari Lyrics:
MUJH MAIN AB RANG SUB TUMHARA HAI
ITNA KEH DAY KE TU HAMARA HAI
YEH ACHHI PARDADARI HAI YEH ACHHI RAAZDARI HAI
JO AAE TUMHARI BAZM MAIN DEEWANA HO JAAE
YAHAN HONA NA HONA HAI, NA HONA AIN HONA HAI
JISAY HONA HO KUCHH, KHAAK E DAR E JANANA HO JAAE
WOH MAI DAY DAY JO PEHLE SHIBLI O MANSOOR KO DI THI
TO BEDAM BHI NISAR E MURSHID E MAIKHANA HO JAAE.
HUMAIN BHI JALWA GAH E NAAZ PER LAY KER CHALO MUSA
TUMHAIN GHASH AA GAYA TO HUSN E JAANA KAUN DEKHE GA
CHALI HEIN MERI AAHAIN ARSH KA PAAYA HILAANAY KO
KAHEEN BARHAM NIZAM E AALAM E BAALA NA HO JAAE
YEH ACHHI PARDADARI HAI YEH ACHHI RAAZDARI HAI
NAMI DAANAM CHAY AAKHIR CHOON DAM E DEEDAR MEE RAQSAM
MANA BISMIL KAY ZAIR E KHANJAR E KHOON KHAAR MEE RAQSAM
Be sure to stay tuned after the review/reaction to hear my thoughts. Please LIKE and SHARE this video also let me know your views.
✅ Keep up-to-date on the latest videos by SUBSCRIBING and also don't forget to press the NOTIFICATION BELL: https://goo.gl/pcVukw
✅ Please support the channel by becoming a Patreon: CLICK HERE https://www.patreon.com/IamFawad
✅ Let's connect:
☑ Website: http://www.fawadahmed.com
☑ YouTube: https://www.youtube.com/user/iamfawad
☑Twitter: https://twitter.com/iamfawad25
☑ Instagram: https://www.instagram.com/iamfawad25
☑ Facebook: https://www.facebook.com/IamFawad25
✅ Want to send me a reaction video or ask a question?
Post it in the comments section or you can click on the "About" tab on my main channel page and then click "Send Message" If that does not work, send a message on Instagram http://www.Instagram.com/IamFawad25
🔴 Note: Before requesting any video please be sure to check my playlist https://www.youtube.com/user/iamfawad/playlists in case if I have already done a reaction to the video.
🔴 Copyright Disclaimer Under Section 107 of the Copyright Act 1976, allowance is made for "fair use" for purposes such as criticism, comment, news reporting, teaching, scholarship, and research. Fair use is a use permitted by copyright statute that might otherwise be infringing. Non-profit, educational or personal use tips the balance in favour of fair use.*