Shahid Afridi Book Game Changer Review – Shocking and Controversial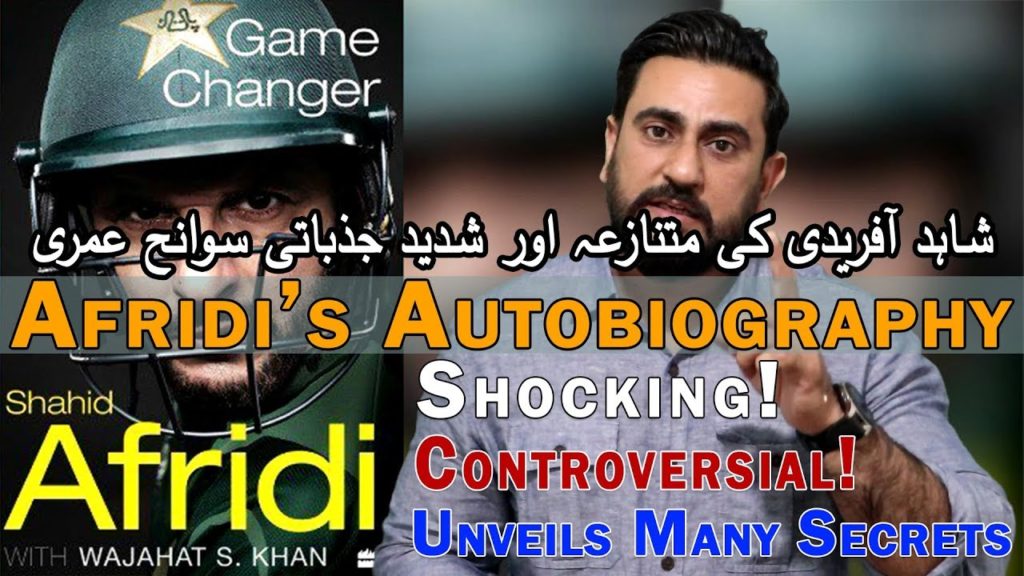 Hello friends, watch my latest review/reaction on the
Shahid Afridi Book Game Changer which is Shocking and Controversial Autobiography of Boom Boom Afridi.

آفریدی کی سوانح عمری 'گیم چیمپئن' بہت سی رازوں کو فاش کرتی ہے. افریدی نے واضح طور پر کمزوریاں، منافع اور قومی ٹیم میں موقع پر فکسنگ کے بارے میں کچھ شدید متعلق معلومات کا اظہار کیا. شاہد آفریدی نے صرف 37 گیندوں پر ون ڈے میں سب سے تیز سوچ میں سری لنکا کی شکست کی. وہ بھارت پاک سب سے زیادہ کنارے میں سب سے زیادہ پیار کرکٹر میں سے ایک رہا ہے. آج کی کتاب کا جائزہ لینے میں میں شاہد آفریدی کی تازہ ترین بصیرت "گیم چیمبر" کو مسترد کرتا ہوں. کتاب بچپن سے ان کی زندگی کا حساب ہے، اس کے بعد وہ اپنی ریٹائرمنٹ تک بین الاقوامی کرکٹ میں اپنی پہلی پوری طرح. انہوں نے امیدوار عمران خان، بلاول بھٹو اور نواز شریف کی طرح قومی رہنماؤں کے بارے میں اپنی کمزوریوں، طاقتوں، ٹیم کی سیاست، ان کے ذاتی سیاسی خیالات کے بارے میں دعوی کیا ہے. انہوں نے اپنی پارٹی کی زندگی کے بارے میں واضح طور پر لکھتے ہیں اور وہ کس طرح بیرون ملک رات کی زندگی سے محبت کرتے تھے.
Afridi autobiography 'Game Changer' unveils many secrets. Afridi blatantly revealed some shocking information about the weaknesses, hypocrisy and spot-fixing in the national team.
CORRECT AGE:
Superstar all-rounder started with correcting his age at the time of his then-fastest century off just 37 deliveries. He wrote, "I was just nineteen, and not sixteen as they claim. I was born in 1975. So yes, the authorities stated my age incorrectly."
WAQAR YOUNIS- POOR LEADERSHIP:
Former skipper talked about the ICC World Cup 2003 debacle stating that Waqar Younis leadership sunk the national team in the tournament. He believed that Waqar lacked unity and could not fight the dressing room politics which he, himself, is responsible for. He had no leadership skills to lead the team.
JAVED MIANDAD- A SMALL MAN:
Former Pakistan all-rounder revealed discriminatory behaviour of Javed Miandad towards him calling him a small man. He expressed "The tussle had started even before the series kicked off. Miandad had developed a strong opinion against me… in fact, the day before I went to bat, Miandad didn't even give me any net practice. So I had to practice on a stringed ball, alone, away from my teammates. That was the cloud of angst and embarrassment under which I was playing my first Test against Pakistan's greatest rival."
POOR MANAGEMENT:
Boom Boom also criticized the director general (DG) of PCB saying that no new policies and reforms were implemented and nothing substantial was achieved during his days.
He also mentioned that few months before the 2010 Lord s fixing scandal, everyone in the management knows about the on-going spot-fixing along with hard evidence which they ignored and faced the fiasco.
IMRAN KHAN- SUPERSTAR
Shahid Afridi praised former captain turned prime minister Imran Khan in his book stating that Imran never interfered in personal matters nor got personal with any player, same as he is running his cabinet today.
He applauded his efforts for peace with the neighbour India and ideas for Naya Pakistan. "From his peace overtures (I quote his first speech, about Pakistan taking two steps towards peace if the Indians take one step – an approach I personally believe in too) to opening the Kartarpur corridor and releasing the Indian Air Force pilot shot down by the Pakistanis in February 2019 – peaceful relations with India are essential. Both countries, even the subcontinental region, will flourish," the all-rounder talked in his book.
Shahid Afridi who is known for hitting the ball out of park did the same with his autobiography 'Game Changer' giving a thriller to his fans.
Be sure to stay tuned after the review/reaction to hear my thoughts. Please LIKE and SHARE this video also let me know your views.
✅ Keep up-to-date on the latest videos by SUBSCRIBING and also don't forget to press the NOTIFICATION BELL: https://goo.gl/pcVukw
✅ Please support the channel by becoming a Patreon:
CLICK HERE https://www.patreon.com/IamFawad
✅ Are you fancy chatting with me and gets the latest updates??😉
Come and join the group chat so that we can share videos more easily. 🙂 Also, you can submit video requests as well. Join the group here: https://youtu.be/join/ct-qnVwQBICdRw
✅ Let's connect:
☑ Website: http://www.fawadahmed.com
☑ YouTube: https://www.youtube.com/user/iamfawad
☑Twitter: https://twitter.com/iamfawad25
☑ Instagram: https://www.instagram.com/iamfawad25
☑ Facebook: https://www.facebook.com/IamFawad25
✅ Want to send me a reaction video or ask a question?
Post it in the comments section or you can click on the "About" tab on my main channel page and then click "Send Message" If that does not work, send a message on Instagram http://www.Instagram.com/IamFawad25